Three members of the Yale School of Public Health's academic community, two faculty and a student, were selected by the Class of 2019 for their commitment to advancing the student experience and promoting academic achievement.
The awards—Distinguished Teacher, Distinguished Student Mentor and Teaching Fellow of the Year—were announced recently by Dean Sten H. Vermund. Each of the honorees will be recognized at next week's commencement and their names will be added to the awards wall outside Winslow Auditorium.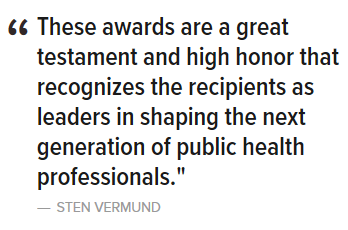 "Quality teaching and mentoring skills are tremendously influential on a student's experience at Yale," said Vermund. "These awards are a great testament and high honor that recognizes the recipients as leaders in shaping the next generation of public health professionals."
Distinguished Teaching Award
Mayur M. Desai, M.P.H. '94, Ph.D. '97, received the YSPH Distinguished Teaching Award—the school's highest honor. It is the fourth time that Desai has been recognized with the award since 2009.
Students selected Desai in recognition of his "exceptional teaching and striving to make information relevant and entertaining to students." His students also praised him for "effectively teaching and making complex subject matter come alive" and for his "humor, transparency, and engagement in student activities." 
Desai, an associate professor in the Department of Chronic Disease Epidemiology, directs the Advanced Professional M.P.H. Program and teaches courses on epidemiologic research methods and data analysis. His work focuses on improving the quality and outcomes of medical care in complex and vulnerable populations, developing quality metrics that drive improvements in health care delivery, and health system strengthening in low- and middle-income settings.
In addition, Desai has a strong history of global health capacity building. He has developed and taught short courses and workshops focused on epidemiology, biostatistics, monitoring and evaluation, strategic problem solving, and mentorship in nearly a dozen countries.
"It's a privilege to be able to work with our outstanding students," said Desai. He added that he's "grateful to the graduating class for this wonderful honor" and that "it's particularly poignant on the 25th anniversary of receiving my M.P.H. degree from YSPH."
Distinguished Student Mentor
J. Lucian "Luke" Davis, M.D. was named the 2019 Distinguished Student Mentor. He was selected for his "unique ability to be simultaneously positive and encouraging while also constructive in his comments."   
The mentoring award recognizes the recipient as a leader in shaping the next generation of public health professionals and one who serves as a role model for their students; conveys passion for public health and their specific field of study; has clear and high expectations of their students; encourages their students to grow and achieve their full potential; is sensitive to students' needs and concerns; provides ongoing feedback and makes extraordinary efforts to help their students. 
Davis was praised by students for his attention to detail and generosity with time. They wrote, "I believe that Luke stands apart from the rest as a result of the primary importance he places on the responsibility of mentoring students as a part of being a faculty member. I am extremely lucky to have had the opportunity to work with him over the past two years and am so happy that he agreed to mentor me. I'll carry the lessons I learned from Luke throughout my career in global health and hope that many future students are able to benefit from his mentorship."
Davis is a pulmonary/critical care physician and epidemiologist seeking to improve diagnostic evaluation and case finding for tuberculosis (TB) using translational research and implementation science. He teaches a graduate course on implementation science and mentors master's and doctoral students at the Yale School of Public Health. He also leads a Fogarty research-training program on TB and other pulmonary complications of HIV/AIDS in Uganda.
"There is enormous gratification in mentoring that comes from helping students learn they can do more than they imagined and start to find where in the world they can make their impact," said Davis.
Teaching Fellow of the Year
Adam Viera, Ph.D.'23, was honored as Teaching Fellow of the Year. This award recognizes a YSPH doctoral student who demonstrates outstanding performance as a teaching fellow and promise as a future teacher. The honor recognizes the recipient as a leader in shaping the next generation of public health professionals, someone who serves as a role model for students, sets high expectations, gives feedback and helps students in multiple ways. 
Viera was admired for demonstrating outstanding effort in supporting the course instructor and assisting students; explaining difficult concepts in innovative and creative ways; being sensitive to students' needs and concerns; and treating students with fairness and respect. He was nominated by his students for, "always being available, explaining things well, and providing much needed guidance and direction in class," and was praised for his "personable approach and willingness to answer any questions that arise."
Viera is studying the design, implementation and evaluation of harm reduction interventions for priority populations of people who use drugs. He has a particular interest in supporting the adoption of various harm reduction interventions throughout the United States.
"It is an honor to even be considered for this award, much less to receive it," he said. "It has been a pleasure to be a Teaching Fellow and to support students in their learning. I have learned so much from the process and look forward to continuing to serve in this role in the future."
---
This article originally appeared on School of Public Health.