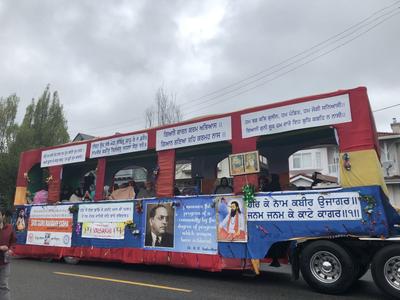 Amidst the gray skies, rain, and general Pacific Northwest gloom looming over Vancouver, I found myself in a colorful and lively mini-Punjab, surrounded by a robust community of Sikhs who have been in the region for generations. Just at the outskirts of the metro Vancouver area, I arrived in the "pind" (village) of Surrey, where I was surrounded by a sabzi mandi (grocery market), mithai dukan (sweet shop), and numerous kapra (clothing) shops. What was rarely found outside of South Asia was copiously available to me in one convenient location. These "business centers," as they are referred to across British Columbia, are at the core of Punjabi diasporic culture, replete with immigration centers, clothing stores and boutiques, restaurants and sweet shops, jewelry and gold stores, grocery stores, beauty salons, astrology shops, Punjab Insurance, wedding banquet halls, and liquor stores. The domed architecture of the Gurdwara Sahib (Sikh temple) hovered in the distance. In so many ways, the entanglements of religion, culture, race, and identity came together beautifully in these business centers. The Punjabi hubs represented the dynamism of the community in the metropolitan Vancouver area: a thriving infrastructure developed to meet the demands of the growing community. It was clear to me, a native of Southern California, that the "mini India's" that I grew up with around the United States paled in comparison. 
Once located in central Vancouver, the Punjabi market shifted and proliferated into multiple markets and gurdwaras across British Columbia, mainly in Surrey, Burnaby and Abbotsford—the sites of my field research over the past eight months. (Much of the relocation followed years of changing urban space, gentrification, and increased cost of living in Vancouver.) I spent many hours in beauty parlors, restaurants, and religious temples, finding rich spaces of community engagement. More specifically, I have been doing seva (service) in the Ravidas Gurdwara of Vancouver, a community center and religious temple for followers of Guru Ravidas, to understand the ways that caste persists in the North American Punjabi diaspora. Vancouver's Ravidassia community developed after many people experienced caste-based discrimination from mainstream Sikh gurdwaras. I have found the Ravidassia community to be robust and heterogeneous where followers articulate varied relationships to their faith and Sikhism as well as to their relationship with Guru Ravidas. Traditionally, Ravidassias seek to shed their caste subordination and retrieve their lost religion, heritage, and identity, ultimately establishing a separate Dalit identity. However, many of my interlocuters revealed a more nuanced relationship to Sikhism—that is, they do not completely disavow it, but instead seek for ways to pursue a more inclusive Sikhi: a "begumpura," or a utopia without casteism.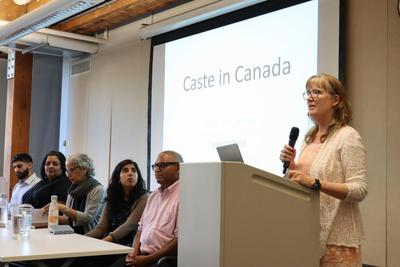 I spent most of my days in the kitchen of the Ravidas Gurdwara, cutting tomatoes and onions, opening up packages of paneer, and watching elderly women boast their perfectly round chapati-making skills. The women shared with me their stories and experiences of migration, the kinds of gendered expectations that were asked of them when they arrived in Canada, and the ways that living in this new country shaped who they are. Their resiliency was enmeshed in detailed descriptions of the hardships they experienced when they arrived. They also described the support they received from neighbors and other family members who offered care and material resources to help ease their transition. Because Punjabis have been in Vancouver since the early 20th century, the longstanding community provided new migrants with the resources necessary to develop a sustained life. One of the biggest barriers to "integrating," as many of my interlocuters referred to it as, was around issues of caste. Many felt that this continued to reappear (often, more stringently) during conversations of marriage. I found matrimonial ads in newspapers that emphasized caste, and many families continued to discourage their children from marrying outside of caste or sub-caste. Mostly, women explained that there is a persistent silence around caste—even though most people do not outright ask, they make assumptions based on last name, and by asking circular or indirect questions. 
These were the stories of immigrants and elders who had arrived in Vancouver in the 80s and 90s. The first generation offered different narratives. Many young people did not have the same experiences around caste because there was a lack of literacy around knowing people's last names as they affiliated with caste. Those that were familiar with these categories learned caste at an older age, or just did not seem to be as concerned with it as an identity category. Many of the conversations centered around the use of the word Jat (the agriculture and landowning caste that has economic and political dominance in Punjab, and the caste of a majority of Sikhs who migrated to North America) synonymously with Punjabi and with Sikh. Often this is reflected in cultural production including music, film, and social media. The hashtag #JAT or #JATTIAN seems to circulate among many Surrey youth, without a reflexive understanding of the weight the term carries for Dalit Punjabis in the diaspora. One of the many interesting experiences I had was speaking on REDFM, a local "ethnic" radio station owned by the South Asian Broadcasting Corporation, where I discussed issues of caste in the community. Many listeners called in and had much to say, but felt there wasn't yet a forum for them to discuss these issues.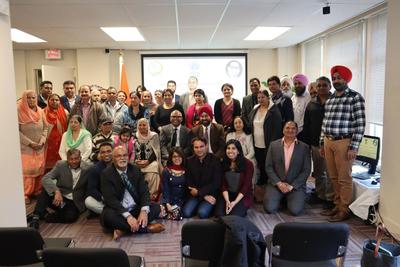 These early conversations with immigrants and first-generation Punjabi-Canadians have alluded to the complex and diverse sets of relationships the community has with issues of caste. They are also part of ongoing conversations happening with non-profits, scholars, and community activists who are doing tremendous work to shed light on Dalit-diasporic issues. Spending time reading in the Ambedkar library at the Ravidas Gurdwara, observing Sunday Punjabi classes of young children learning to write Gurmukhi (the Punjabi language script), or sitting in the langar hall (community kitchen) noticing families and friends eating together and filling each other in on what they did during the previous week offered me a new lens for understanding religion and caste in the Punjabi diaspora. There is so much life in these halls, of people building a lasting and vibrant community. It is fitting then that my research on caste in Canada begins in the kitchen. These are mere glimpses of the broader fieldwork I have been doing. I hope to spend the rest of my time in the field lingering in these everyday sites where the Punjabi diaspora grows and thrives.
Sasha Sabherwal is a doctoral candidate in American Studies