In his distinguished career, Justice Qazi Faez Isa has investigated international incidents, taken Pakistan's security establishment to task for political interference, and made strides toward reforming the concept of probation in Pakistan's sentencing system. His 40 years of legal and judicial practice—including eight years and counting on the Supreme Court of Pakistan—have made him an imposing figure in Pakistan's legal and political landscape.
Perhaps unusually for an eminent judge, he also has a sense of humor. In an evening talk hosted by the South Asian Studies Council on Thursday, December 1st, Isa elicited more than a few laughs from a sizable crowd that had gathered on little more than a day's notice to hear him speak. "Let's see how good liars you are," he said at one point in a discussion of the mandatory retirement age for Supreme Court justices in Pakistan: "How old am I?"
Isa was introduced by Rohit De, Associate Professor of History, who emphasized that Isa was "quite remarkable for his work defending the integrity of Pakistan's judicial processes." Isa began his talk with an overview of Pakistan's administrative and legal history, Pakistan's Constitution, the functions of the Supreme Court of Pakistan, and remarks on some of the notable cases that he has adjudicated. Some of the key issues he has decided include profiteering off of publicly provided housing, public service and probation for people convicted of crimes, and the relationship between law and environmental problems.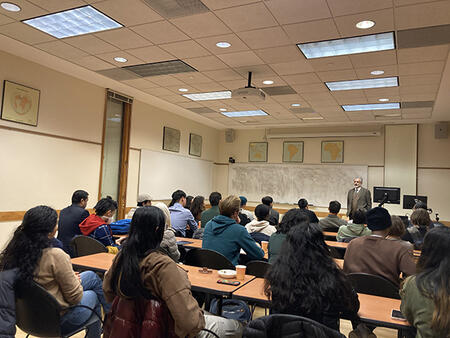 Isa has also made a name for himself through his writings on Pakistani law and Islam. He explained at one point that the "Supreme Court has taken on the responsibility of combatting terrorism intellectually." In his time on the Supreme Court bench, Isa has criticized interpretations of Islamic scripture that restrict the right to education, argued resolutely against terrorist attacks carried out in the name of Islam, and pushed back against security-religious entanglements in Pakistani politics.
After concluding his prepared remarks, Isa fielded a selection of questions from the audience, many of them from faculty who were in attendance. The talk concluded after an hour of open discussion about topics ranging from election administration to judicial restraint, Pakistani celebrities, and the extension of the "right to life" in Pakistan's constitution to the right to a living environment. As the conversation wound down, Isa was kept behind by a steady stream of students interested in asking for photos and more questions. He didn't, however, forget an important task. "I have a wife who'll want to know what I'm doing," he told his audience. "Can I get a picture?"
Isa was appointed Chief Justice of the Balochistan High Court in 2009 and sworn on to the Supreme Court of Pakistan in 2014. He is scheduled to assume the role of Chief Justice of Pakistan in September 2023.
Byline: Daevan Mangalmurti