As I settle into my new position as Librarian for South and Southeast Asian Studies, I am coming across all sorts of treasures in the collection. I was really excited to discover that we have been collecting gallery exhibition catalogues from South Asia, particularly from India and Bangladesh. So, naturally, I requested that all the catalogues from Bangladesh be delivered to my office. Besides being a fabulous way to build a fort around my desk, these things are a great source of visual and textual data for research in the humanities and social sciences. There is even a really cool project called Artlas that is using exhibition catalogues for statistical and geospatial analysis. 
Consult a couple of these catalogues and you will notice that many of the artists are working with nationalist themes, highlighting the ways that artists are central to the intellection and political work of constructing the nation. In the catalogue for the 2010 exhibition "Song of Our Motherland" at the Bengal Gallery of Fine Arts, painters from across the country evoke the nation as mother. Many of the titles for these paintings reference Tagore's sonnets and poetry, especially "My Golden Bangla" (Amar Sonar Bangla), which is the national anthem of Bangladesh. Color choice is also tied to nationalist identity as seen in the heavy uses of not only golden hues, but the colors of the Bangladesh flag (green and red).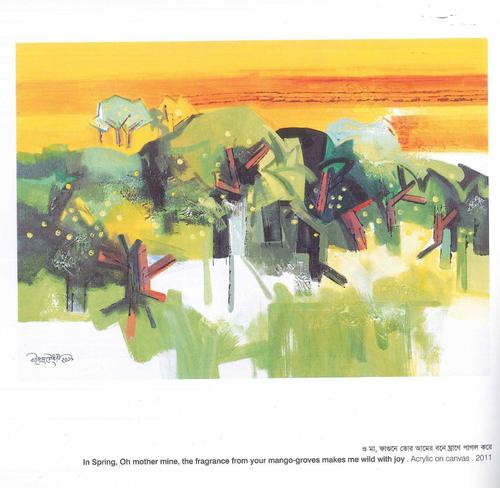 Looking at the catalogue for "Dreams-Sowing" (Gallery Chitrak, 2012), you will find the work of Kanak Chanpa Chakma, a woman born in Rangamati and a prominent painter of the Chakma community, one of the larger ethno-national groups in the Chittagong Hill Tracts. Her paintings work to depict and by extension include the indigenous communities of the Chittagong Hill Tracts into the narrative of Bangladesh. These communities, being neither Bengali nor Muslim, fit uncomfortably within the nationalist narratives of the country, and have been fighting for basic rights to self-determination since the end of Bangladesh Liberation War.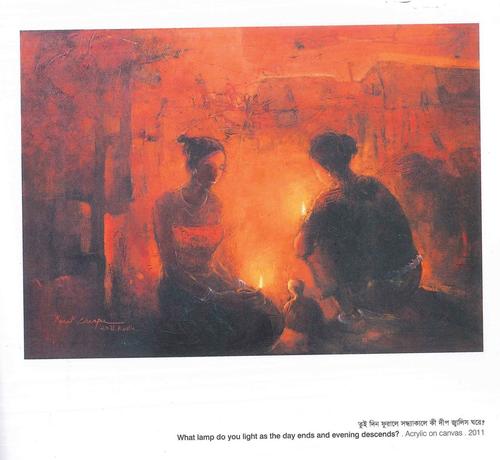 Students and faculty interested in material culture might ask about the kinds of paints used, and find that acrylic mediums are the most prevalent, despite the central important of gouache in traditional South Asian painting. The limited, but highly refined work in watercolors shown in Gallery Kaya's 2008 exhibit "Rhythm in Nature" by Hamiduzzaman Khan, for example, provides a great example of contemporary abstract work in the country. 
Gender and the depiction of women has, of course, been a prevalent theme in art around the world for centuries, but it is only recently that we are seeing paintings of women by women. Scholars of gender/sexuality will find a rich source of visual data on women's experiences in Bangladesh. In the catalogue for the 2012 "Freedom in Creativity" exhibit in Dhaka, two women artists really stand out to me: Atia Islam Anne and Shulekha Chaudhury. Both of these artists make use of particular experiences and violence that women experience in Bangladesh and around the world. Sometimes words just aren't enough, and only a painting will do.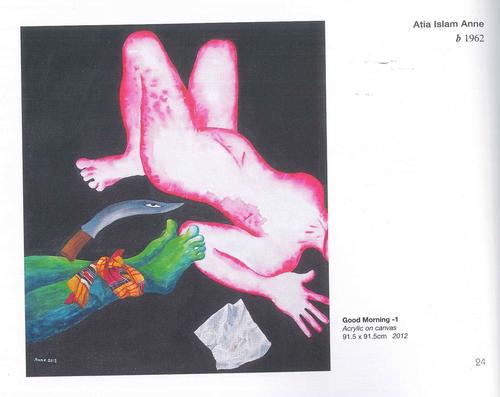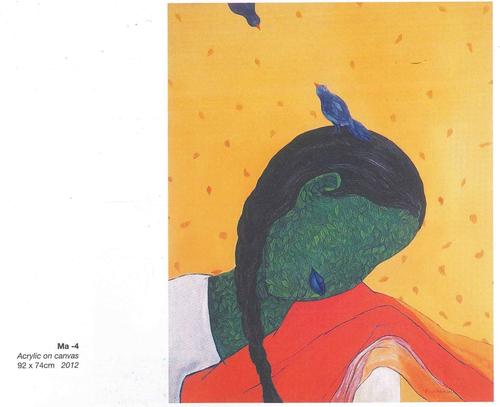 Interested in using these or the hundreds of other catalogues for your research? All of the exhibition catalogues are housed at the Haas Art Library, but you can always have them delivered to Sterling Memorial or the library of your choice. Start with Quicksearch, using a keyword such as "Bangladesh Art", "India art", or more specific items like "Dalit art", "India oil painting", etc. From there, refine your search to only include items from the Art Library and exhibition catalogues. The collection is always growing, and if there is anything you feel we are missing or a way I can make these catalogues more useful to you, shoot me an email at brandon.miliate@yale.edu, or stop by my office in 214A Sterling Memorial Library. 
… 
Brandon J. Miliate, PhD is the new Librarian for South and Southeast Asian Studies at Yale University. When he is not exploring and building the South Asia Collection, he can found at home playing the harp, painting, or taking on yet another language (Telugu sounds nice!). Learn more about about the South Asia Collection and your new Librarian.