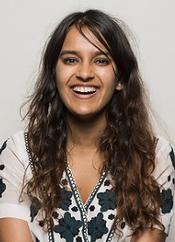 Snigdha Sur, YC '12, majored in Economics and South Asian Studies at Yale. While at Yale, Snigdha engaged deeply with her passion for media – Snigdha wrote and photographed for the Yale Daily News, helped invite Shahrukh Khan as a Chubb Fellow, wrote her senior thesis on how Bollywood has experienced a step-change since 2000, and started the first student-run South Asian Film Festival, growing it to 500 audience members. A number of South Asian Studies courses helped her dig deeper into the region, from Seema Khurana's Hindi offerings to the Ramayana with Hugh Flick.
After graduating, Snigdha spent three years at McKinsey New York, pursued further study at Harvard Business School, and several years in media. Now, Snigdha has brought her cross-disciplinary perspective to found The Juggernaut, digital media platform that aims to tell smart, sharp South Asian stories. The Juggernaut's backers include by Y Combinator and Precursor Ventures, and launched its website for original reported features to the public in February. Our student assistant Ram Vishwanathan spoke to Snigdha to learn more-
RV: Give me a blurb for dummies about The Juggernaut.
SS: We're a media platform and community for South Asians in the diaspora, starting with those in United States. But more generally, we cater to anyone interested in being global citizens, and who wants to understand how South Asia is increasingly becoming a part of global news. Our tagline is, 'we tell stories smartly', and our thesis is that South Asia is increasingly becoming a global force that needs to be reckoned with and understood, not just by people who think they understand – and we all have our own preconceptions of the region – but also by people who are unfamiliar with the region.
RV: You've used the word 'smartly' a few times. Why do you stress on that word?
SS: There are a lot of resources out there for you to get your jolt of lifestyle or arts that might just give you a cursory understanding of what's going on and how we connect to our culture - You might understand what the top Bollywood movies are, or who went to whose party, or other gossip and things like that. But I think there's a place for us to cover lifestyle and art but at the same time go deeper into issues, in the fashion of the New Yorker, rather than cover them cursorily. The word smart means that we assume the audience are global citizens. We don't want to dumb down news, and we approach our writing with the idea that you care, and that you seek this out.
RV: You mentioned that you have worked in Bollywood, journalism and consulting in the past. Tell me about your journey to The Juggernaut. What was your inspiration? What are your goals?
SS: I've always been fascinated by South Asia; it's where I'm from, and South Asian Studies was my second major at Yale. I ran a film festival at college centered around South Asia, invited Shahrukh Khan to Yale, and did my thesis on Bollywood. I also spent a couple summers in Mumbai, researching the industry and speaking to people there. After graduating, I worked in McKenzie for a couple years, but always felt that I wanted to work more with media. I used the business knowledge I had gained at the company in the media field, and when I moved to India, soon realized that digital media was growing – more and more people were coming online in India as the middle class grows bigger.
I had always wanted to build a media company – it was what I had always studied and had my mind on. My initial idea was to build a business oriented journal for the film trade – a sort of Hollywood Reporter – that would cover the film industry in a very analytical, business-minded way. Most publications talk of a film review, or who's with whom, rather than the business itself.
But over a conversation with a friend, I realized it was important to go wider – Bollywood and art would remain one segment, but we would bring the analytical rigor to other areas as well. We now have five pillars: tech, business, macroeconomics, culture and politics. We hope to connect the dots, go deeper, and highlight the trends that people might be missing.
RV: How did this crystallize into what Juggernaut is right now?
SS: We started by providing a free newsletter that curates news from a variety of sources that we feel are really well written and fits into our style. A few months of understanding our audience — and what went untold in international news cycles — led us to launch a subscription service that includes access to our original reported articles and to our community.  We started hosting events in April.
RV: You mentioned that you convey 'insights, not summaries.' How do you curate this information to decide what stories to cover?
SS: A lot of it has been learning by doing. We are constantly evolving with each newsletter, and our bar has been getting higher and higher. Our goal is to provide information that will change your view, and to allow you to make a better-informed decision down the line. For example, we covered a lawsuit filed by Asian Americans against affirmative action in university admissions, but also went deeper, trying to understand whom affirmative action benefits, how South Asian Americans differed from East Asian Americans in their views, and connected the dots behind what seems an ordinary piece of news. We make sure our sources are credible, that the news is corroborated across multiple sources, and that it fits into wider themes we and our audience is interested in.
Our basic thesis is simple: that there are more people out there connected to South Asia, but who are often not as connected as they'd like to be.
RV: How do you strike a balance between covering stories South Asian stories and South Asian American stories?
SS: We realized that there is a real dearth of stories on South Asian Americans, and so we have really made an effort to cover stories that often go unnoticed. But we also focus on emerging stories that appeal to a global audience. We've written about topics ranging from the undocumented Indian immigrants in the United States to how gold is used in Rohingya camps to the importance of Freddie Mercury as a global rock icon.
RV: How do you visualize The Juggernaut developing over the medium and long term?
SS: We hope that The Juggernaut will be the go-to source for all things South Asia – globally. We are hiring the best writers for untold South Asian stories. We also plan to expand across formats, such as podcasts and video. We are focused on our core demographic, taking their feedback, and making folks feel seen or heard – often for the first time. If you want to get involved, reach out to us on Twitter or Instagram.