MacMillan Center for International and Area Studies at Yale is pleased to announce that Sunil Amrith will succeed Mushfiq Mobarak, Professor of Economics, as Chair of the South Asian Studies Council for a three year term. Sarah Khan, Assistant Professor of Political Science, will serve as the Council's Director of Undergraduate Studies. Both will begin their new roles on July 1, 2020.
Professor Amrith is currently the Mehra Family Professor of South Asian History at Harvard. He has deep experience and involvement with South Asian studies, at Harvard, Cambridge, and in London, as well as recent experience running the Mahindra Center for the Humanities at Harvard.
"We owe Mushfiq our sincere thanks for his leadership and service," said Steven Wilkinson, Henry R. Luce Director of the MacMillan Center. "He has done such great things in the role of Chair over the past few years, especially in encouraging interdisciplinary work."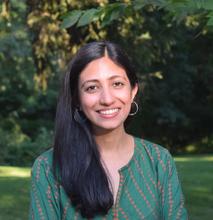 Sarah Khan, who has been actively involved in the Council since she came to Yale as a postgraduate associate in 2018, and has organized a number of exciting events for the Council, takes over from Harry Blair, who is retiring from the role.
"We owe our profound thanks to Harry for his superb service and dedication to SASC and the major over the years," said Wilkinson. "Fortunately, Harry will remain in the area and an active member of our community."