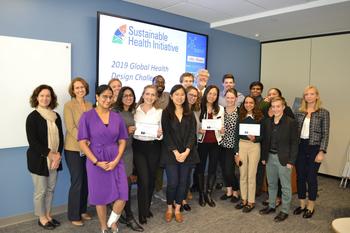 On October 14, the Sustainable Health Initiative (SHI) held its first Design Challenge for Global Health. Five finalists presented solutions to address complex health challenges such as elder care and isolation, sustainable agriculture, tuberculosis care and treatment and non-communicable diseases in among urban vulnerable populations. Three awards were given out based on the innovation, health impact, and business viability of their venture:
Audience Choice $500 2BeMore (Julie Chang, MBA/MPHc; Aneta Gasiewska MBA/MPHc; Golden Gao, MBA/MPHc; Sina Reinhard, MPHc)
Second Prize $2,500 tbtext (Muzz Muhammad, MDc; Ragini Luthra, MDc; John Havlik, MDc;  Ann Johnson, MDc; Sajid Hossain, MDc; Jamison O'Marr, MDc)
First Prize $5,000 THULSI (Ria Rungta, MPHc)
In addition, award winners will be provided coaching and support to compete for a $70,000 seed investment and participation in the SHI program in Bangalore, India in June 2020. 
The Yale Institute for Global Health, Yale School of Public Health, The CoWrks Foundry and RMZ Foundation created SHI in 2019 to improve the health of the people of India and around the globe by leveraging technology to launch startups for social, health, and environmental impact. 
Applications are now being accepted and screened on a rolling basis through January 28th. Click here to access the: Sustainable Health Initiative 2020 Accelerator Application
For more information, contact Nikole Allen