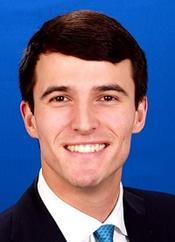 Charles Parrino '19 graduated from Yale College with degrees in Economics and in History, and is currently into his first job out of college in New York. On the way, Parrino picked up the South Asian Studies Council's senior essay prize for his essay titled Mrs. Meer Hassan Ali's Letters from India. In a short interview with the Council's South Asia fellow Ram Vishwanathan, Parrino spoke to how Yale piqued his interest in South Asian history, his experience writing his thesis, and his advice for the thousands of Yalies that will follow in the same road in the years to come!
RV: What is your thesis about, and how did you end up choosing to write about it?
CP: I had always been interested in the history of the British Empire, but my real journey began when I took Prof. Rohit De's British Raj and the Indian Nation seminar. I really enjoyed the course, and found the study of company rule in India particularly interesting. For the final essay, thoroughly enjoyed writing about the 1857 rebellion, and this spawned further exploration into the topic. In my research, I had found some letters with the help of my academic advisor written by a Mrs. Meer Hassan Ali some decades before, and this proved to be a primary source that got my thesis project started.
RV: Who was Mrs. Ali, and why are her letters so important?
CP: Mrs. Ali was a British woman who married an Indian Muslim man and moved to the United Provinces. She was quite an anomaly and was mentioned as a notable British woman in pre-1857 India. But the publication of her letters and their legacy hadn't been studied at all, and my research shows that she in fact became a critical source in shaping British understandings of Islam in South Asia.
RV: So were her letters quite widely disseminated?
CP: Her letters were published immediately following her return to England in 1828, and received favorable reviews from critics, although they later disappeared from public consciousness. But Mrs. Ali was quite an extraordinary woman – she defied social conventions and was a pioneer of sorts, and I found this fascinating.
RV: That's fascinating! What sort of insights do her letters reveal?
CP: Through marriage, she had access into the zenana, and so her letters offer one of the first accounts of life in the zenana under Muslim family tradition. Everything she revealed had not been previously documented.
RV: What were some of the challenges you faced writing the essay?
CP: By far the biggest challenge was the untraversed nature of the work – I had to go deep and prove that this woman's work was significant, with no building blocks to rely on from prior. It was exciting but daunting. A second challenge was getting up to speed on Islam and religious history, which took a considerable amount of reading but was also well worth the effort.
RV: For all of us writing a thesis this year or the next, what advice do you have?
CP: No matter how organized and motivated you are, the first semester is always a challenge! I was thinking far too broadly for the entire first semester, and ended up drowning in secondary readings that pointed me to a dozen different women. 50 pages sounds intimidating, but it fills up quickly! I had to narrow my sources down, then read various sources on Islam, before making them fit together and staying organized throughout. A good advisor is really helpful, and be prudent while picking them!